(Guest post by Andre Janus, Founder and CEO of Cristaux International)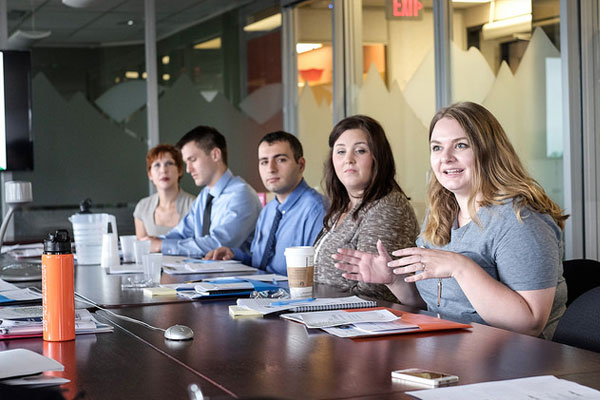 Recognizing top-achieving employees is a great way to strengthen workplace culture and drive business success. For many companies, recognition programs revolve around monthly, quarterly or annual honors handed out at employee meetings or galas. This type of recognition means a lot to your most valuable employees, but your organization is missing out if this is your only approach to appreciation. After all, people want to be noticed for the little things too.
That means leveraging creative employee recognition ideas and making a commitment to calling out achievement on a regular basis. By appreciating your employees for the everyday things they do to take your organization to the next level, you increase their satisfaction and encourage greater productivity. Regular recognition activities will also help the rest of your employees understand what you want from them. It's about identifying desirable behaviors, rewarding those who've mastered them and setting the tone for others.
Regular recognition is also about building a dynamic, collaborative workplace culture. When your employees know that you care about what they're doing and that your organization is invested in them, they'll push themselves harder. Recognizing valuable employees also encourages a culture where peer-to-peer support and praise run high. Of course, these positive peer connections can translate into greater collaboration on key projects.
There no doubt that your organization could benefit from applauding your best employees on a daily basis. You're even ready to implement regular recognition, but you're just not sure where to start. We've got you covered. Consider these seven creative employee recognition ideas that you can implement without fuss. If you're concerned that you'll run out of time for employee appreciation, add it to your to-do list. It's a business task as crucial as any other.
Catch up about employee personal goals
Even your most dedicated employees want to know that you care about them as individual professionals. You can show employees who consistently do a great job that you appreciate them by listening to their personal goals. Ask one of your organization's leaders to take 15 to 20 minutes to drop by the employee's work area, thank them for their efforts and ask them about what they hope to accomplish professionally. Providing mentoring and support to your top talent will ensure that your organization benefits from stellar human capital now and in the future.
Make choice assignments a type of recognition
If your organization uses daily or weekly meetings to divide tasks among employees, seize the opportunity to let top achievers have first dibs at assignments. At the meeting, spend a few moments highlighting why you'd like to recognize a certain employee. Once you've doled out praise, ask the employee to choose an assignment. It's an easy way to make it clear that your organization is willing to give the most rewarding and challenging assignments to employees who prove that they're up to the task.
Hack your own site with a praise banner
You can highlight your organization's daily employee recognition activities with posts on social media networks, but you don't have to stop there. Surprise a top employee by asking your web designer or IT staff to replace your website's regular banner with a special one that honors that person. This is a particularly good strategy when you want to make sure that your clients and customers know who your organization's top performers are too.
Get up early to greet your employees
The simple act of greeting each employee by name as they get to work for the day can go a long way towards boosting morale. It shows that you're invested in your department or organization, and it sets the right tone for the day. Take it a step further and personalize your greeting by praising your employees for what they do well. It's a great way to start the workday, so try to greet your team at least one morning per week.
Ambush employees with surprise praise
A big project has just concluded, and you want to recognize an employee who did some really amazing things. One simple way to do so is to decorate that employee's workspace before the day starts. You can go as simple or wild as you want. Think streamers, balloons and confetti. It might seem silly or even childish, but a celebratory atmosphere can really energize your employees.
Do a department-wide shutdown for fun
Infusing your workplace culture with a sense of fun encourages productivity and collaboration. If you'd like to reward a team that consistently puts in good work, consider surprising the whole department with a short workday. Fill the extra time with fun, team-building activities or a relaxing experience such as an impromptu picnic. Provide plenty of verbal praise and consider handing out small tokens of your organization's appreciation too.
Practice pay-it-forward recognition
Building peer-to-peer recognition into your employee appreciation program is essential. You should translate your peer-to-peer efforts to daily recognition too. Pick a small gift, then ask an employee to choose a peer to give it to at an upcoming meeting. Ask that employee to write a note or give a short speech about why they're recognizing that person too.
As you implement creative employee recognition ideas, don't forget to ask employees how they'd like to be recognized. It's good to be creative, but it's also essential that you tailor what you're doing to the culture at your organization. Recognizing employees means investing in their achievements and supporting their passions, and that means showing them that what they do matters. Remember that employee recognition is about strengthening your workforce. Like any other exercise, you'll see the best results when you go at it regularly and purposefully.
Author Bio:
Andre Janus is founder and head of
Cristaux International
in Elk Grove Village/IL. Cristaux International is specialized in custom awards and other high-end forms of recognition. Producing unique pieces and assuring quality are in the focus of the company.
Image credit: Province of British Columbia under C.C.2.0